At JARE ATP we have brought together the best aviation specialists who are dedicated to developing excellent aviation training devices and environments and delivering the highest quality aviation products for our customers, whether they be airlines, aviation trainers or other aviation training providers including colleges and universities
COVID-19 PANDEMIC – WE ARE STILL ABLE TO TAKE AVIATION EQUIPMENT ORDERS TO SEND OUT VIA MAIL/COURIER – WE ARE ALSO TAKING ENQUIRIES FOR MOCK-UP CABINS, CEET/CST PROJECTS FOR INSTALLATION IN 2021 – PLEASE ASK US FOR YOUR REQUIREMENTS – OUR AVIATION WORKSHOP AT UNIT A2 CIRRUS COURT AT BOURNEMOUTH AIRPORT HANDLES ALL THIS WORK.
Mock-up Cabins and other training devices including Check-in Areas (see below for CEET/CST/DT devices) – below are a few examples from recent projects (please also see this link for our 2021 Mock-up Cabin & Check-in Brochure) 
Two recent comments regarding South Lanarkshire College's Midi Mock-up Cabins and UCB's larger Mock-up Cabin and Check-in Area in their new Aviation Suite (shown above):-
Chichester College 1.3.21.: "Thanks again for your help and support, in achieving this great end result, it was a pleasure having you on site" Rob Kay, Director of Estates, Chichester College Group.
South Lanarkshire College, East Kilbride 18.8.20.: "We can't wait to use this fabulous new resource with our students.  Thank you for your hard work, it really looks fantastic, thank you" Liz Woods, Programme Manager, South Lanarkshire College.
University College Birmingham 18.3.20.: "We are delighted with the facility" Prof .Michael Harkin, Vice Chancellor and Principal, UCB.

Some CEET/CST/DT examples
Exceptional Aviation Resources ~ Fantastic Practical Activities ~ Outstanding Value for Money
At JARE ATP we supply, refurbish, manufacture and install a whole range of aviation equipment from a simple rotable cup up through to re-commissioned aircraft for CEET/CST/DT training and  Mock-up cabins (full, midi, half) and check-in areas as well as Cabin  Emergency Evacuation Trainers (CEET), Cabin Service Trainers (CST) and Emergency Equipment Trainers (EET), Door Trainers and Fire Trainers as the examples above and below show and we bespoke everything to the individual needs of an airline, aviation training provider, college, university, institution or school. Don't risk buying salvage or scrap aviation items, the risk of getting what you really need is too great, let JARE ATP, with properly sourced, serviced and cleaned aviation equipment, furnish your precise requirements.
NEW EXCITING CABIN OPTIONS – we now build and supply a range of interactive and touch-screen FAP (Forward Attendant Panel) cabin options including:-
Fully working PSU's – with reading lights, calls bells, fasten seat belt and no smoking signs

Touch-screen connectivity to a range of cabin functions inc. PSU's

Remotely controlled interactive options with touch-screen via a wi-fi enabled laptop, PC, tablet or hand-held device offering Tutor control over the cabin to enact a range of student cabin scenarios

Interphone Handsets and PA capability

Sound Effects controlled by the interactive touch-screen – including a range of emergency and in-flight scenarios

Cabin Temperature control

Cabin Lighting dimming & control

Emergency Exit Signs

Bespoke options for a range of specific cabin requirements are also available
Please see below some examples of the interactive cabin options with the touch-screen we can build within a Mock-up Cabin, aircraft section or full fuselage, there are many others available:-
We also supply ex-airline SEP cabin equipment – this too is scrap/unserviceable equipment but unlike our other aviation equipment is not designed to have a functional use but as a demonstration item to place in a mock-up cabin or display – please see below the important aspect of this supply regarding Oxygen Cylinders, Life Jackets, BCF/Halon Extinguishers and Smoke Hoods etc., as we do not supply working examples of these items for classroom/mock-up or other use – gases and chemicals can always be present in ex-airline equipment.
We also provide a comprehensive range of check-in and airport equipment as well. We also have newly arrived stock in from our various airline suppliers for 2019-20 and we can now offer some special deals to enhance a range of Airline & Airport programmes from a range of awarding bodies that a college might require.
CEET/CST/DT – aviation Devices
Below are a few CEET, CST and Emergency Equipment Trainers which we have built over the last 20 years – including our Full Aircraft CEET/CST.
Recent comments regarding our Mock-up Cabin and Check-in Area manufacturing and installation work:-
Belfast Metropolitan College 6.3.19.: "Thanks for the great job on the cabin mock-up" Sharon Rolt, Cabin Crew Training.
West Kent College 20.1.18.: "An excellent set of mock-up cabin resources, thank you" Sarah Hogben, Travel & Tourism.
Bournemouth & Poole College 20.11.17.: "Both my Air Cabin Crew Lecturer and myself  agree that it is a vast improvement, the additional facilities have given us more scope for role plays together with a RWE which is exactly what we need" Judith Grandjean, Learning Manager, Travel & Tourism.
Fife College 23.10.17.: "Thank you for your work in installing the mock-up cabin, it has created great interest with everyone in the Faculty." Bryan J.McCabe, Director of Andrew Carnegie Faculty of Business, Enterprise and Tourism.
Walsall College 26.9.17.: "I think that the seats look great, all the team that I have spoken too are also very happy." Sue Perry.
East Africa School of Aviation 28.7.17.: "It was a pleasure to meet you when installing the mock-up cabin at EASA, thank for all your help, patience and support." Alex Kamito, Project Manager for EASA, Managing Director of Geoscintex.
Hong Kong University 15.1.16.: "It is our great pleasure to have the opportunity to work with you.  We all think that you two are truly aviation professionals and are surprised by your amazing works on the cabin setup.  Please accept our sincere gratitude to your support."  Dr.SM Lam, HKU SPACE.
Highbury College 5.1.15.: "It's fantastic!!!!!!! The travel team are thrilled with the mock-up cabin and check-in area. All completed in a timely manner – thank you" Rob Strachan, Head of Centre, Travel & Tourism.
Lowestoft College 4.9.14.: "Just to say a big 'thank you' for installing the mock-up cabin with such efficiency and professionalism, we are absolutely delighted with it, the whole process was managed seamlessly, on budget and on time – indeed it was a pleasure to work with you." Emma Beese, Section Head – Travel, Tourism and Business Skills
Services for Colleges, Universities, Schools and other Aviation Training Institutions
Click this link to see our 2021 Mock-up Cabin & Check-in Brochure – due to the number of images and content it may take a short time to load, we do update this brochure regularly, so please ask for our latest brochure.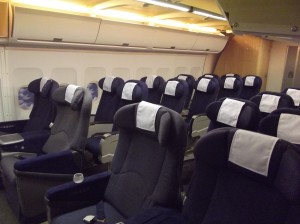 In our aviation Hangar we always have a range of aviation items and aviation emergency, cabin equipment and check-in equipment available – ask us NOW with your requirements – please note  that ALL equipment/items is/are u/s and/or scrap stock: Airline seating – doubles, triple, economy, business, Galleys – from small to large, Overhead Bins – from singles to doubles – large/small, Cabin Crew Jump Seats – from singles & doubles, PSU's, Sidewall Window Panels – from singles to doubles and triples, Drager/Scott Smoke Hoods – from smaller to larger self-contained, Flight Deck Pictures – Cabin Doors – Emergency Door – Cabin Systems, Carts – from Gash, Half and Full options, Atlas Cases – from singles to doubles, Large/Small Perspex Insert Boxes, BCF's – Oxygen bottles – Water Extinguishers, Ex-British Airways branded – Service Sets inc. Round Trays – Rectangular Trays – Sugar Bowls – Creamers – Tea Pots – Pint Jugs – ½ size Serving Trays – Large Serving Trays – Infant, adult life jackets, oxygen masks, extension and infant seat belts PLUS MUCH, MUCH MORE. Please ask us for what you require and for our Prices.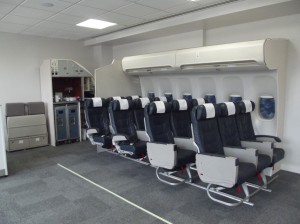 These offers really are GOLDEN opportunities to provide your students with a chance to use some excellent resources + impress your colleagues and senior management of your resourcefulness in producing an excellent and interesting focal point for your department AND impress them with the LOW COST. Call Andrew or Julie today for more information and availability – we only have limited sets now available at present due to great demand – (Tel 01202 582354, e-mail anse@jare-atp.co.uk OR fax 01202 331901) – TODAY! Please remember that Standard Rated VAT applies to ALL sales of airline equipment at the current prevailing rate.
All our Mock-up Cabin, Check-in and Aviation Equipment supply is backed by our ISO 9001:2015 Quality Management System which is your guarantee of receiving a quality service, supply and installation from JARE Airline Training Partnership.
PLEASE NOTE THAT ALL the aviation equipment we sell on to third parties (i.e. schools/institutions/colleges etc.) is ex-airline scrap or unserviceable equipment, which we clean and prepare but we cannot give a warranty on its use or suitability – all items purchased should be fully checked and on SEP equipment markings should be made that these items are for DEMONSTRATION only and not to be used for any type of emergency use at all.
It should also be remembered that life jackets and similar items may have an unused gas cyclinder still in situ, likewise for Oxygen and BCF cylinders there may be unused product still contained within them, Smoke hoods and similar will usually be sealed and out of date but may also have chemicals within them which need careful handling – we recommend that all ex-airline equipment is checked and any H&S issues are resolved by removing old "active" ingredients/chemicals/gases etc., storage of these items may also be important.
We do not sell ANY aviation equipment for other than demonstration purposes and purchasers have the sole responsibility for ensuring their safety at all times – ALL our supplied items are marked on Invoices and Delivery Notes as SCRAP and/or U/S ex-airline equipment and no warranty is ever implied to them being in satisfactory condition for any type of use.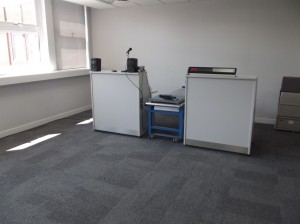 OTHER OPTIONS – your own Mock-up Cabin and/or Check-in Area – we have supplied over 200 of colleges, institutions and schools with a range of options, please ask us for your own individual requirements. JARE ATP design, manufacture, build, install and commission + maintain complete Mock-up Cabin set ups located within your college campus to recreate a complete aircraft mock-up and check-in area for permanent use. We have built many of these mock-up cabins and check-in areas for a range of colleges and schools around the UK and prices range from £75,000.00 to over £125,000.00+ – a real investment for your student's learning. Half Mock-up Cabins*, similar to the example shown at the top of this page (we also have the MIDI option which is a Half Mock-up Cabin + an extra set of seats creating a 6 abreast seating with central aisle), for the 2020-21 session start from only £19,950.00 to over £39,950 + VAT – depending on the spec and typically include:-
We now use a unique METAL construction for our mock-up cabins inc. aluminium/metal fuselage sides with powder coating for durability
 Half Mock-up Cabin                                           Full Mock-up Cabin                         
4 x Triple Economy Seats                          8 x Triple Economy Seats

(with business class seat options for either full or half mock-ups)

1 x Galley Unit                                               1 x Galley Unit

2 x Overhead Lockers                                 4 x Overhead Lockers

1 x Single Cabin Crew Jump Seat          1 x Double Cabin Crew Jump Seat 

3 x Double Sidewall

Window Panels    6 x Double Sidewall Windows
EXTRAS to basic Mock-up Cabins can include:-
Emergency and Cabin lighting through

Galley Fire, LAV Fire and Locker FIRE SIMS – using IR BCF technology, smoke, sounds and lighting realism

Cabin Door images to increase touch drills and realism

Check-in Area  

Forward (and rear) Attendants Panel (FAP) – touch-screen interactive system inc. PSU's, Chimes, Reading Lights, Aviation Sound Effects, Emergency Scenario Sound Effects, and Interphone Handsets capable of PAs 

Pathway Marking controlled by FAP

+ much much more
EXTRAS can include increasing size to Full Mock-up Cabin with Fuselage sides and:-
Business Double Seats

Extra Triple Economy Seats

Extra Overhead Lockers

Bulkheads with Stowage

Double Cabin Crew Jump Seat

Extra Double Sidewall Window Panels

Bulkhead Dividers

Photoluminescent Pathway Marking

Passenger Address System

Check-in Desk

Check-in Items i.e. Gravity Roller Conveyor, Electronic Scales, LED Moving Message

Security Items – HHMD, two-Way Radios etc.

PLUS many more options – whatever your requirements are
* Prices relate to UK installations within 100 mile radius of our operating base – locations further afield in the UK are subject to other pricing and other EU and Overseas destinations pricing is subject to delivery, installer and other charges all quoted separately
ADDITIONALLY we also have fully interactive mock-ups available using our unique and custom built touch-screen FAP (Forward Attendant Panel) with a functional set of features inc: PSU's, PA, Interphone, Lighting, Sound Effects and much more – we can also provide an interactive opening cabin door with girt bar, bustle and dog clips.
We also offer a "Campus Inspection Service"for colleges and schools interested in acquiring mock-up cabins and check-in areas in the UK.
We will visit your Campus and view your available space, discuss your requirements and make our recommendations to you as well as consider the best options for your available budget – all without obligation.
Call Andrew N.S.Easton for more details: 01202 582354 or e-mail: anse@jare-atp.co.uk.
NOTE – all our services and sales of aviation equipment and mock-ups are subject to our Standard Terms and Conditions – please check these out, if you are in any doubt, under our heading JARE ATP Ltd and scroll down to Terms and Conditions.