At JARE Airline Training we have been offering colleges, schools and universities a chance for their students to take part in a range of practical activities for over 30 years.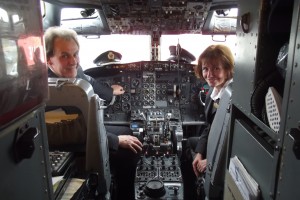 Let us guide your students through a wide range of exciting aviation activities at our Boeing B737 Trainer Aircraft and Aviation Centre.
Despite the Covid-19 Pandemic we are now offering our SEP/Airline Practical Activity Days for college students in 2021-22, just ask us what we can offer your college, school or university.
An investment in one of our training days isn't expensive for you and your students – it's priceless!
All our options start from only £29.95 per student and include a wide range of over 40 Airline & Airport activities as well as some designed specifically for Uniformed Public Services Students. Our usual minimum student number to invoice for is usually 12 students, HOWEVER are are always flexible and can consider smaller groups as necessary to help all colleges, schools and universities with smaller group numbers.
Whatever your interest is as an Educational Institution please select from the options below this header for a range of exciting hands-on opportunities.
Most of our students are either studying Travel & Tourism options, specific Air Cabin Crew options, Aviation Operations on the Ground options, Leisure & Hospitality as well as Unformed Public Services programmes.
We can offer:-
Aviation Experience Sessions
Airline Practical Activity Day Sessions
Airport Practical Activity Day Sessions
Uniformed Public Services Sessions
Uniformed Public Services with Terrorism – Hi-jacking – Security training sessions
NOTE – all our services and programmes are subject to our Standard Terms and Conditions – please check these out, if you are in any doubt, under our heading JARE ATP Ltd and scroll down to Terms and Conditions.