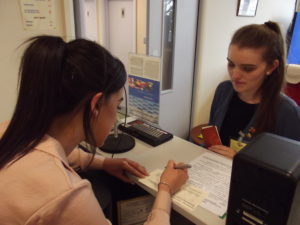 Exceptional Aviation Resources ~ Fantastic Practical Activities ~ Outstanding Value for Money
An investment in one of our training courses isn't expensive – it's priceless!
If you are ready to fulfil your dream to become an Airline Customer Service Agent then we are ready to help you NOW!
The Airline Customer Service Agent can include the roles of:-
Check-in
Customer & Passenger Care
Departures
Ticket Desk
Arrivals
Departure Lounges
.  .  .  to name just a few options that are available at an Airport.
Let JARE ATP train you to the 

AVIATION GOLD PROFESSIONAL STANDARD

 airline and airport employers are looking for in their new recruits.
Also please remember ALL our programmes are covered by our unique BAC accreditation and LRQA ISO 9001:2015 Quality Management Systems.
All our aviation training is completed on our Boeing B737 Trainer Aircraft and Aviation Centre based at Bournemouth International Airport on the South Coast of England less than 2 hours from London.
DATES FOR 2019
Following the fantastic success of our recent programmes we continue offer our very popular Airline Customer Service Agent Two Day training programme, something we have offered for over 27 years.
Our next course dates in 2019 are:-
September –  26 & 27.9.2019.
The cost is only £165.00* – if you want to book one of our programmes please click on the BOOK NOW button below:-

BOOK TODAY!
At the end of each programme we help all our students towards relevant aviation employment and support during the application, interview and recruitment process for those eligible to work and live in the UK/EU.

 
What happens on our Two Day Airline Customer Service Agents programme:-
Each Day : 09.00 – 17.00 – registration from 08.30hrs
Boeing B737 Trainer and Aviation Centre activities, where all students have the opportunity to take part in:
Check-in – using our unique MS Access based check-in system
Passenger Address – check-in, boarding, departure, arrival, special needs etc.
Security Checks
"X-Ray" checking of passenger luggage
Departure lounge PAs
Denied Boarding & return to landside
Special Needs Boarding
ABP boarding
Boarding at remote stand
Flight manifest/Load sheet reconciliation
Seating on aircraft of passenger types
Liaison with other colleagues using two-way radio for effective communication
Arrivals procedures
Passport Control/UK Border Control checks
HM Revenue & Customs checks and three channel processing
Lost, damaged and stolen luggage inc: PIRs
Considering Restricted, prohibited and other articles for each flight – with examples
Completion relevant paperwork
Classroom-based activities:
An introduction to the Aviation Industry
introduction to the Role of the Airline Customer Service Agent
Physiological Aspects of flying and flight
Aviation Geography, Times and Time Zones
Aide Memoire on the main Regulatory Authorities
Aviation Terminology, Phonetic Alphabet and Airport and Airline Codes
The Airport and Ground Handling Procedures
Key part of Airline/Airport Interview Techniques
Airline/Airport Grooming, Appearance and Lifestyle
Life in the Day of an Airline Customer Service Agent
Completing Application Forms
Group Work and Group Discussions
Self-introduction – workshop session
Emergency First Aid in an aviation context – an externally accredited and internationally recognised First Aid qualification is included:-
Completion of an HSE Approved 'Emergency First Aid' programme and fully certificated separately including: Responsibilities and reporting ~ What is Emergency First Aid? ~ Legislation ~ Action in an emergency ~ Primary survey ~ Secondary assessment ~ The respiratory system ~ Disorders of respiration ~ Adult basic life support ~ Foreign objects ~ Disorders of the circulation ~ Minor burns and scalds ~ Epilepsy ~ Wounds and bleeding ~ Resuscitation ~ Assessment of the situation ~ Choking ~ Dealing with an unresponsive casualty ~ Minor injuries ~ Seizures ~ Basic Hygiene in First Aid ~ Bleeding control ~ Shock ~ Aviation Context of Emergency First Aid at Work (*for successful students there is a small £10.00* cost for external certification payable at the end of the programme)
You can also TOP UP this programme by adding an extra day on either of our three current 2019 dates i.e. 

September –  25, 26 & 27.9.2019. 

to complete our Air Cabin Crew & Airport Diploma programme which includes practical experience of the Air Cabin Crew role which is so closely linked to the Airline Customer Service Agent role and so vital to understand – the extra cost is only £60.00 – please click on this link to view this option: Air Cabin Crew & Airport Diploma programme
Feedback from our last programmes are, as usual very positive, this is what some of our students told us about what they liked and had gained from their course attendance (see them in action on their programme below in a range of photos taken during various sessions):-
Erika Carbrera 12.10.18. – "I would like to take this opportunity to thank you for the informative Two Day programme with you. I really learned a lot and gained a superb experience as a first aider and customer service agent. I will bring this knowledge as I take the new chapter of my life. Thank you for all the modules, exercises, guide books, and application forms you've given us. It is very much appreciated"
Zahara Walji 7.10.18. -"I really enjoyed the 2 day CSA course and first aid day – both days I learnt so much and this has stuck in my mind which has been really good.
Renata Maia 23.6.2017. – "I just wanted to take some time to thank you both for being so welcoming and helping me reach many of my goals and helping me choose what I may want to do in the future. It was such an amazing experience being with you, if not the best experience I have ever had in my life as of yet. Thank you once again"
Lucy Buckley 11.9.2016: "The course was amazing as it gave me an insight into was is involved".
Tattiana Makengo 11.9.2015: "Brilliant 100% – I would really recommend a friend to take this programme, the training gives you all the information you need to know".
Hirut Daniel 26.9.2014 – "EXCELLENT!"
Mohammed Rashid 2.5.2014: "Brilliant – will recommend to others, thanks for everything".
Nigat Mushtaq 2.5.2014: "I rate it as very informative and has increased my understanding of first aid in the Aviation environment".
Also please watch our Video/DVD by selecting the JARE ATP DVD button on our website browser to see our facilities in action.
To ask a question or receive more information please use the form below to contact us today without any obligation:
Please also check our page "Why choose JARE Airline Training Partnership?" to give you an objective guide as to why you should choose us to help your aviation career take off. REMEMBER that not even British Airways,  Virgin Atlantic or any other UK Airline have a full aircraft for students to work on, only mock-ups and sections! 
Our next course dates in 2019 are:-
September –  26 & 27.9

.2019.
ONLY £165.00* per student for your programme tuition  

– BOOK TODAY!
Our Two Day programme uniquely also includes an HSE Approved 'Emergency First Aid at Work' internationally recognised certification issued by First Aid Awards Limited (there is a small £10.00* certification fee on successful completion at the end of your programme), so essential for Airport and Ground Crew roles and candidates who have this qualification will be looked on much more favourably by Airport employers than those without this qualification.

 If you are considering a career in aviation or are interested in this fascinating, exciting and challenging work then PLEASE read this introduction to our services BEFORE you decide to embark on any programmes or courses with anyone whether it be a Private Provider, a College, an Aviation Trainer, School or University because it will save you much time and effort to see what is available.
Here is what some other students have said about their JARE ATP programme:-
Ana Edjibia 7.8.12: "I would like to thank you for all the knowledge and help which you gave me during the course time."
Alastair Price 28.6.12: "I just wanted to extend my thanks again to yourself and Andrew for what was a thoroughly enjoyable and very helpful course in Airline Customer Service Agent Training."
Our programmes are ideal if you have airline or airport interviews coming up and you need specific help for your interview(s); all our Airline Customer Service Agent training is at our Boeing B737 Trainer & Aviation Centre at Bournemouth International Airport.
All our programmes are mapped to the UK Occupational Standards for Aviation and as such are all to UK/EU Worldwide aviation industry approved standards.
Unlike any other independent specialist aviation providers we have now been approved onto the Skills Funding Agency's (SFA) Register of Training Organisations following our previous approval onto the SFA Accredited Colleges and Training Organisations Register.
Also if, as a student, you enjoy learning in a warm, friendly and supportive atmosphere taught by long-standing professional Tutors in an Aviation Centre, then we are the right Aviation Specialist for your training needs.
For Overseas students please see our separate webpage for further details.
Background to JARE Airline Training Partnership Limited
For over 27 years we've been helping new entrants into the exciting world of aviation to understand the Ground Crew role, airline entry requirements and airline interview techniques as well as some of the practical skills required.
At J.A.R.E. Airline Training Partnership we pioneered, 26 years ago, the concept of learning the basic airline skills BEFORE applicants applied to an airline/airport/handler OR went to airline/airport/handler interviews, this long term track record is your guarantee of quality.
You will find plenty of new and recent aviation companies on countless websites offering you help and advice as well as programmes to help you based at hotels – but why risk your success when you can come to our own established Boeing B737 Trainer & Aviation at Bournemouth International Airport with bespoke Training Suites, Aircraft, Airport check-in desk and Departure lounge instead of learning in a basic classroom or hotel conference centre?
To check our Codes of Practice please click on the button above to see our range of accreditations, registrations and codes of practice, you will not find another specialist aviation provider with this level of externally approved professionalism in the UK. We are also an Approved Assessment Centre for National Awarding Body NCFE No: 8462495 for aviation programmes.
We help 1,000's students a year and 150 colleges use our facilities as well as direct applicants to experience aviation at first hand – on our website you will see genuine students, our own Centre as well ourselves – when you deal with J.A.R.E. Airline Training Partnership you deal with and will be taught by the two founders of J.A.R.E. Airline Training Partnership with over 50 years experience in aviation, one a former Chief Stewardess and one a former Chief Executive of a UK Airline.
We can offer a short One, Two and Three Day options as well as a 3-4 month option, all taught at times to suit you, you can achieve our own widely recognised certification, externally accredited certificates or a combination of both – many of the current external awards were originally written by us in the first place.
Not only are we qualified Tutors with many internationally recognised teaching qualifications (inc: a Certificate in Education), we also teach other Tutors to teach aviation subjects around the world, as an organisation we are not only ISO 9001:2008 registered but also on the UK Register of Recognised Learning Providers (UKPRN: 10018326) as well as the Government's Skills Funding Agency, Qualified Provider Framework (QPF) which has now become the Approved College and Training Organisation Register (ACTOR) – now Register of Training Organisations for 2012-13/13-14/14-15/15-16/16-17/17-18. This latter option involves a lengthy process to ascertain our quality teaching & systems.
Additionally we are a Charity Commission Registered Aviation Educational Charitable Trust – the only one of its kind in the UK, Registered Charity No: 1130711 – we aim therefore to keep our costs to a minimum and thus saving you, our potential student, extra costs and expense.
Based in the Aviation Park West part of Bournemouth International Airport our Centre is easily accessible for the major dual carriageways A31/A338, M27 – which link to the M3 from London and the North/Midlands. Christchurch and Bournemouth Stations are only a few miles away and there is an Airport Bus which has a stop just 250M away from our B737 Trainer & Aviation Centre – so travel to our Centre is simple.
You will find our site comprehensive for the our services and it may take you some time to navigate around what we offer; please take as much time as you need, e-mail us or call us to discuss your needs and requirements, we always offer free and objective advice to all our potential students.
Also, unlike any other aviation provider, you are more than welcome to come and visit our Centre prior to enrolling on any programme with us, see our impressive facilities and discuss your requirements with us; all we ask is that we arrange a suitable time and date for you to visit us, rather than just call in, because we have a busy schedule of training where most days of the week we have students and groups visiting our Centre for their aviation studies.
Our aim is to ensure that you have all the options at your fingertips and that you can make an informed choice and do the right thing for your future career which is best for you and can help you the most for a future career in aviation.
As a Registered Charity and Aviation Educational Charitable Trust all our work is enshrined in our aims and objectives which are:-
"To advance the education of the public in the subjects of Airline, Airport & Aviation Studies & related industries"
For Overseas students please see our separate webpage for further details.
Please note that all our programme bookings are made subject to our Standard Terms and Conditions – please see the relevant page in this section.
Travel to our Centre
Based in the Aviation Park West part of Bournemouth International Airport our Centre is easily accessible for the major dual carriageways A31/A338, M27 – which link to the M3 from London and the North/Midlands. Christchurch and Bournemouth Stations are only a few miles away and there is an Airport Bus A1 which has a stop just 250 M away from our B737 Trainer Centre – so travel to our Centre is simple. We are less than 2 hours away from London on the South Coast of England.
Accommodation
If you need to stay overnight when attending your programme Bournemouth has some of the widest range of hotels, B&B's and Guest Houses to suit all budgets starting from £25.00 per person upwards – there are a range of options close to our Centre for you to choose from with easy access from all the travel networks around the South Coast.
Remember the cost of any hotel accommodation and/or meals is NOT included in the courses fees we make and you need to make your own arrangements.
Entry requirements
We have never had any barriers to our training programmes, however airlines do and so you need to consider their basic entry requirements in the UK to include:
AGE – starting at 18 up to 65 years – we accept any students from 16 years upwards for our programmes
RESIDENCY – airlines/airports/handlers will require applicants to have an EU/UK passport and right of residency to work in the UK and the EU – we will accept students who have a fluency in English at IELTS 5.0 or above if from abroad and with a GCSE education in the UK or similar within the EU (to match airline requirements)
For Overseas students please see our separate webpage for further details.
HEIGHT & WEIGHT – some airlines/airports/handler may require a minimum height of 5'2" (157.5CMS) and weight in proportion, however ground crew employers are much more flexible as there aren't the restriction of an aircraft cabin to consider – we accept any students keen to learn new skills
HEALTH – working as Ground Crew does require fitness, stamina, some  pre-existing illness or diseases which would require medical control may be excluded, but all airline/airport/handlers have different criteria, some disabilities are also dependent on whether an individual could complete their duties unaided, please ask us for your own examples – we accept any students on our programmes who are physically fit and healthy
EDUCATION – most airlines, airports and ground handlers will require a UK GCSE level of secondary education (with Overseas equivalents) including English & Maths and 6-12 months minimum Customer Service/Care experience
There are other criteria but these are the ones you should be aware of initially.
We will always help all our students and candidates with help and advice on the relevant entry requirements – however our courses are available to those not just seeking employment but also those who are interested in aviation and understanding the exciting world of airlines and we will consider a wide range of applicants who wish to join our courses on their own merit.