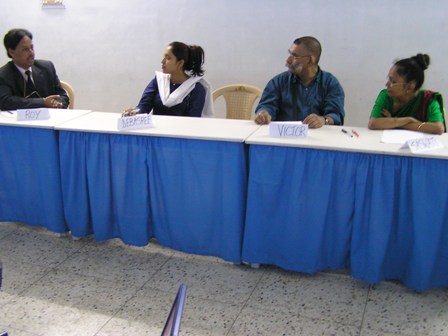 We have some strategic alliances with major Educational Providers in the Indian Sub-Continent, China and in the Middle East – these partnerships offer not just our JARE ATP supported range of Airline & Airport programmes but also some University and Distance Education based Diplomas and Degrees.
Let JARE ATP train you to the 

AVIATION GOLD STANDARD

 airline and airport employers are looking for in their new recruits.
Also please watch our Video/DVD by selecting the JARE ATP DVD button on our website browser to see our facilities in action.
UK Taught Options
In 2017-18 we continue to offer UK taught programmes for Overseas students based on cohorts of students from SB Global of India, Shanghai Jingan Language School (SJLS) in China and AVSOC in Kuwait.
JARE ATP maintains a BAC (British Accreditation Council) accreditation and therefore JARE ATP can now offer, via the UKVI's Short-term Study Visa system, short 3-6 month programmes in the UK at our Boeing B737 Trainer & Aviation Centre, Bournemouth International Airport for the two NCFE Level 2 programmes Introduction to Air Cabin Crew and Aviation Operations on the Ground (Knowledge).
For details of these programmes please look under our website section: Training Courses to view the full syllabus and details.
The scheme is operated by SB Global in India, Shanghai Jingan Language School (SJLS) in China and AVSOC in Kuwait providing a package including JARE ATP tuition, accommodation, flights and other related components in partnership with JARE ATP.
At this stage we will only be accepting cohorts of students who meet all the entry requirements via strategic partnerships as above.
Previous collaborative activity
In 2009-10 we formed a Franchise Partnership with Eng. Hikmat Habouch in Damascus, Syria via the Alwardi-yeh International Institute to offer a range of Airline & Airport programmes.
We are delighted that this was extended in 2010-11 for new students and has now been extended further for 2011-12; last year over 130 students were enrolled on JARE ATP Aviation programmes in Syria via our Franchise Partnership with Eng. Hikmat Habouch in Damascus at the Alwardi-yeh International Institute.
Despite the current troubles in Syria in 2017 we have still enrolled some students.
A high level of success was achieved for these students who have now gone on to forge careers within airlines and at airports worldwide.
All Overseas students taught in their "home" country will have a faculty trained by JARE ATP Limited, teaching Centres will be approved (including resources) and visited by us; all student's work will be assessed and vetted in the UK via our JARE ATP Approved Centre and sampled prior to any certification. The "Quality Assurance" for our Overseas Students will be identical to that undertaken by ourselves for UK students in our own Centre in the UK. All our current learning materials for both Students and Tutors will be used in Overseas Centres with contextualisation where appropriate.
For more details of the exciting opportunities that are available with JARE ATP Limited please contact us directly.