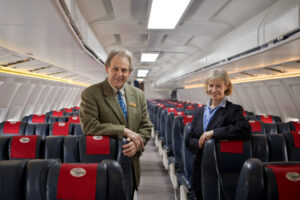 Julie and Andrew of JARE ATP welcome students to their
B737 Trainer Aircraft and Aviation Centre at Bournemouth Airport
JARE ATP is a name respected and trusted in aviation worldwide for quality airline & airport training, providers and practitioners of realistic work environments and continuing support to airlines, airport, colleges, universities and schools as well as Professional Tutor Development.
Also please watch our Video/DVD by selecting the JARE ATP DVD button on our website browser to see our facilities in action.
We can trace our roots back to 1990 when we first developed the notion of Airline & Airport programmes to help develop new entrants into the exciting world of aviation at our first Centre based in the North of England. Both Andrew and Julie have a wide range of Educational and Occupational competence qualifications some first gained in 1995, including Cert. Ed. from University of Greenwich, gained in over 20 years in the airline, airport and education sectors.
In session 2023-24 we look forward to expanding our range of training programmes as well as the manufacture and construction of a range of Mock-up Cabins and Check-in Areas for Colleges, Schools, Universities, Aviation Training Provider both in the UK and Overseas including an extensive inventory of aviation equipment.
We intend to continue to build on the success and skills we have developed in Aviation Training over the last 33 years by being learner focussed, customer driven and innovative in everything we do at our Bournemouth International Airport Aviation Training Centre.
Background
In March 2009 we decided that because most of our activities for education were of a non-business charitable nature we formed, by Charitable Trust Deed, the J.A.R.E. Airline Training Partnership Educational Charitable Trust from 27.3.09. which is now a separate charitable entity Registered Charity No: 1130711. Julie A.Rushton, Andrew N.S.Easton (Chair) and Alan Rushton (Lay Trustee) became the initial Trustees of the new charity for all its non-business educational charity aims "To advance the education of the public in the subjects of Airline, Airport & Aviation Studies and related industries".
In the 2023-24 session we started our 34th year of airline & airport educational service, as the Directors of J.A.R.E. Airline Training Partnership Limited we have been offering, to a wide range of students from 14 years to 65 years, programmes dedicated to achieving the goals of relevant employment in the airline industry. This has involved the teaching of over 50,000 students both directly and via over 150 FE Colleges. Our experience and expertise is unrivalled in this specialist part of the aviation industry, copied many times – and we are flattered by this – we are the genuine and original pioneers of providing relevant airline and airport programmes and matching students to realistic airline or airport careers.
Our commitment to a personal and quality service continues to be one of our core values – when you deal with J.A.R.E. Airline Training Partnership Limited you deal with ONLY the two Directors. We support a wide range of aviation industry recognised qualifications via NCFE, EDEXCEL etc., and can help all schools and colleges with specific help, support, resources and field trips.
We also have a range of awarding body specific materials for airline & airport qualifications and have over the last few years continued to develop a range of support for other awarding body qualifications. With the expertise of a former airline Chief Stewardess and Airline Managing Director, as founding directors & trustees, we have ensured that J.A.R.E. Airline Training Partnership utilises up-to-date airline industry led expertise which has been at the heart of the development and progression of the wide range of 30+  programmes we support.
A further key component has been the progression from the programmes to relevant airline or airport employment utilising the skills previously learnt on each programme; many 1,000's of students have gone on to forge an airline career who owe their success to completing their programmes with J.A.R.E. Airline Training Partnership.
Development
We continue to offer students at Colleges, Universities and schools the widest range of options at our unique Boeing B737 Trainer & Aviation Centre
The J.A.R.E. Airline Training Partnership Limited reached, in 2002, the required standards to achieve the Lloyd's Register of Quality Assurance ISO 9001:2000 assessment as a quality registered firm No: 4000502 –J.A.R.E. ATPis the only independent Airline & Airport and associated programmes specialist with this quality standard in the UK.
Each year since we have been successfully re-inspected and re-accredited with this quality standard award.
Current Operation
2018 – LRQA accredited JARE ATP to the newer ISO 9001:2015 standard with increased scope.
In 2023 we completed our 135th Mock-up Cabin for a major UK College – we now have projects stretching through to 2025 for a range of projects both in the UK and Overseas for a range of Aviation Training Devices incouding Mock-up Cabins, Check-in Srea, Aviation Suites and Cabin Service Trainers.
J.A.R.E. Airline Training Partnership Limited –
Registered in England: No. 5288385
VAT Reg.No: GB 817 4846 05
LRQA ISO 9001:2015 Certificate Identity Number: 10037147
Data Protection with ICO including Educational Purposes No: Z9289867
Skills Funding Agency – ACTOR Approved – now Register of Training Organisations for 2012-13
UK Register of Learning Providers UKPRN: 10018326
DUNS No: 719064565
Department for Works and Pensions LVP Certified Supplier
NUCO Approved Training Centre for a range of First Aid Awards