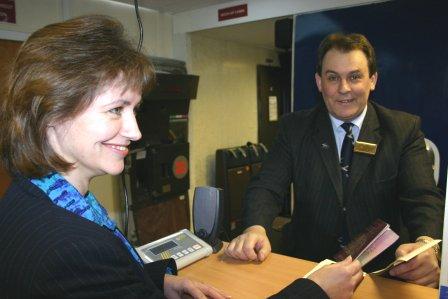 JARE ATP is a name respected and trusted in aviation worldwide for quality airline & airport training, providers and practitioners of realistic work environments and continuing support to airlines, airport, colleges and schools as well as Professional Tutor Development.
Also please watch our Video/DVD by selecting the JARE ATP DVD button on our website browser to see our facilities in action.
We can trace our roots back to 1990 when we first developed the notion of Airline & Airport programmes to help develop new entrants into the exciting world of aviation at our first Centre based in the North of England. Both Andrew and Julie have a wide range of Educational and Occupational competence qualifications some first gained in 1995, including Cert. Ed. from University of Greenwich, gained in over 20 years in the airline, airport and education sectors.
In session 2021-22 we look forward to expanding our range of training programmes as well as the manufacture and construction of a range of Mock-up Cabins and Check-in Areas for Colleges, Schools, Universities both in the UK and Overseas including an extensive inventory of aviation equipment.
In 2019 JARE ATP once again was confirmed in the UK Government's Skills Funding Agency 'Register of Training Organisations' with increased scope and was grade for Financial Health as OUTSTANDING by the SFA.
We intend to continue to build on the success and skills we have developed in Aviation Training over the last 29 years by being learner focussed, customer driven and innovative in everything we do at our Bournemouth International Airport Aviation Training Centre.
Background
In March 2009 we decided that because most of our activities for education were of a non-business charitable nature we formed, by Charitable Trust Deed, the J.A.R.E. Airline Training Partnership Educational Charitable Trust from 27.3.09. which is now a separate charitable entity Registered Charity No: 1130711. Julie A.Rushton, Andrew N.S.Easton (Chair) and Alan Rushton (Lay Trustee) became the initial Trustees of the new charity for all its non-business educational charity aims "To advance the education of the public in the subjects of Airline, Airport & Aviation Studies and related industries".
In the 2021-22 session we started our 31st year of airline & airport educational service, as the Directors of J.A.R.E. Airline Training Partnership Limited we have been offering, to a wide range of students from 14 years to 65 years, programmes dedicated to achieving the goals of relevant employment in the airline industry. This has involved the teaching of over 50,000 students both directly and via over 150 FE Colleges. Our experience and expertise is unrivalled in this specialist part of the aviation industry, copied many times – and we are flattered by this – we are the genuine and original pioneers of providing relevant airline and airport programmes and matching students to realistic airline or airport careers.
Our commitment to a personal and quality service continues to be one of our core values – when you deal with J.A.R.E. Airline Training Partnership Limited you deal with ONLY the two Directors. We support a wide range of aviation industry recognised qualifications via NCFE, EDEXCEL, OCR, C&G etc., and can help all schools and colleges with specific help, support, resources and field trips.
We also have a range of awarding body specific materials for airline & airport qualifications and have over the last few years continued to develop a range of support for other awarding body qualifications. With the expertise of a former airline Chief Stewardess and Airline Managing Director, as founding directors & trustees, we have ensured that J.A.R.E. Airline Training Partnership utilises up-to-date airline industry led expertise which has been at the heart of the development and progression of the wide range of 30+  programmes we support.
A further key component has been the progression from the programmes to relevant airline or airport employment utilising the skills previously learnt on each programme; many 1,000's of students have gone on to forge an airline career who owe their success to completing their programmes with J.A.R.E. Airline Training Partnership.
Development
We continue to offer students at FE Colleges and schools the widest range of options and our unique Boeing B737 Trainer & Aviation Centre has further expanded what students can practically learn in an aviation context. Much evidence for Key Skills, at Level 2, for "Working With Others", "Problem Solving", "Communication" and "Improve Own Learning & Performance" – all with an airline context for a greater student interest – can be tracked. As well as Functional Skills.
2011-12 saw the opening at Bournemouth Airport of our South Coast Centre operating a B737 Trainer aircraft which in 2017 we enhanced when we move at Bournemouth Airport to our new self-contained B737 Aviation & Training Centre.
Recent past
We opened our J.A.R.E. Airline Training Partnership Airline & Airport Training Centre, in Autumn 2004 which houses a comprehensive Training Suite for up to 30 students as well as a "mock-up" cabin for up to 38 students, 2 operational "check-in desks", Security Arch and scanning equipment, an Aviation First Aid Centre and our Aviation Warehouse.
This was the preferred option for most colleges from as far as 300 miles away to visit our Centre to develop their students practical abilities and understanding for a wide range of awarding bodies. The Centre is situated in the West Midlands close to Birmingham International Airport and convenient for a range of motorways including – M6, M6 (Toll), M42, M1, M40, M69 etc., prior to our move to our Boeing B737 Trainer & Aviation Centre at Bournemouth International Airport in 2011-12 and closure of our Birmingham Centre in Summer 2012.
The 2004-05 session saw the successful launch of the Level 1 Award – Introduction to  "Airline & Airport Careers" – an excellent INDUCTION programme for new students. 2005 also saw the introduction of our Overseas Student scheme – we can provide details of the exciting schemes that are available with JARE ATP. 2005-06 – also saw the introduction of a new award Aviation Security Level 2 PLUS Airline Baggage Handlers being uprated to Level 2 and the popular Airline & Airport Careers programmes now having a Level 2 option "Development of Airline & Airport Careers".
2006-07 – saw the opening of our new Airline & Airport Practical Activity Centre in the building adjacent to our existing Centre and includes a range of exciting practical student activities in our EMB-110 passenger aircraft, BAC 1-11 and Fokker F50 aircraft sections, B737 Slide, B747 Galley & B767 Toilet fire simulation, 2 smoke filled cabins (small & large) and the Life Raft trainer/simulation. We have carried this forward at our Boeing B737 Trainer & Aviation Centre at Bournemouth International Airport.
ALL of these activities can be funded for FE Colleges in England via  a simple and short LSC 96/97 programme with up to £200.00 per student YPLA/SFA funding where we have devised simple materials and the chance to gain a nationally recognised qualification.
In Scotland and Wales Individual Learning Accounts can fund practical activities at our Centres. Additionally some schools and Colleges have sourced funds from their local Aim Higher fund.
J.A.R.E. Airline Training Partnership Limited reached, in 2002, the required standards to achieve the Lloyd's Register of Quality Assurance ISO 9001:2000 assessment as a quality registered firm No: 4000502 –J.A.R.E. ATPis the only independent Airline & Airport and associated programmes specialist with this quality standard in the UK.
In 2003, 2004 & 2005 we were successfully re-inspected and re-accredited with this quality standard award.
In December 2005 LRQA's 3 yearly re-certification was completed successfully and JARE ATP were re-certificated for a further 3 years with an INCREASED and enhanced scope of operation. In 2006, 2007, 2008, 2009 and 2010 we successfully were re-inspected each time with a wider scope to our operations including our Airline & Airport Practical Activity Centre.
In 2009 LRQA re-inspected JARE ATP to the latest ISO 9001:2008 standard. At the re-accreditation the Inspector noted: "The training facilities are premier class and the business management processes are conducted in a diligent, committed and pro-active manner. The management constantly take an enterprising and entrepreneurial approach to generate interest and broaden the customer base".
Previously in 2004 LRQA inspectors stated: "JARE ATP offer a quality and pro-active service to all its colleges and their students …" In 2005 LRQA inspectors stated: "Significant thought and intellect has been applied to facilitate the delivery of quality training . . . overall, very impressive."
At the end of  2005 LRQA inspectors completed their three yearly renewal of the JARE ATP Quality Management System and stated: "The Quality Management System continues to be conducted pro-actively for students and colleges alike."
JARE ATP Limited were re-validated for a further 3 years with increased and enhanced scope of operations2008-09 – saw the re-accreditation of our LRQA ISO 9001:2000 standard which we have maintained since 2002 for a further 3 years with increased scope – LRQA commented:"JARE ATP offer Management Systems and Student Learning Experiences  and Resources which are most definitely Premier Class".
In 2008-09 we also comitted to:- Investor in People standard for staff training & Development maxtrix Standard – for Initial Advice and Guidance for our services J.A.R.E. Airline Training Partnership Limited are also an Approved Ascentis Assessment Centre for a wide range of Aviation, Employment and other related qualifications.
Although not a "quality standard" J.A.R.E. Airline Training Partnership Limited were validated on to the new DfES Register of Education and Training Providers in 2005 when the register started for "bona fide" and "genuine" educational and training providers Ref.No: 20280 – this is mandatory for any Overseas students who require an Entry Visa to continue their studies in the UK.
This was further extended to our inclusion onto the UK Register of Learning Providers UKPRN: 10018326.
Additionally JARE ATP Limited are on the LSC Qualified Providers Framework and this migrated to the new SFA ACTOR (Approved College and Training Organisation Register) framework to receive Invitations to Tender for a wide range of Post 19 Educational Programme work. This is now the Register of Training Organisations from 2012.
In 2009-10 we started offering a series of 6 Continuing/Continuous Personal & Professional Development programmes, initially externally accredited with CPD UK, to give all practitioners specific CPD in an Aviation context.
Current Operation
For 2011-12 we have opened our South Coast Centre  at Bournemouth Airport to operating a Boeing B737 Trainer aircraft modified to our exacting standards to give students even more options on a complete aircraft adding further realism to a range of aviation practical activities, this was further enhanced in 2017 when we moved to our new purpose-built B737 Aviation & Training Centre at Bournemouth Airport.
In November 2011 JARE ATP was re-accredited for a further three years by LRQA to the ISO 9001:2008 standard with increased scope. The LRQA Lead Assessor commented in his report: "The addition of the Boeing 737 trainer aircraft facility is an outstanding example of this company's commitment to continual improvement. The training facilities continue to engage and enthuse a diverse variety of students who from their and their colleges positive feedback obviously enjoy the range of facilities and aviation training provided. The business management processes remain impressively robust and are conducted in a diligent, committed and passionate manner. The management constantly take an enterprising and entrepreneurial approach to generate interest and broaden the customer base.
In July 2012 JARE ATP Limited were admitted to the Skills Funding Agency (SFA) Register of Training Organisations following their previous inclusion on the SFA's ACTOR as listed above.
September 2012 was a new landmark for JARE ATP as our Birmingham Centre was totally relocated to our Boeing B737 Trainer & Aviation Centre at Bournemouth International Airport.
December 2012 saw The British Accreditation Council formally accredit JARE ATP Limited for 4 years, this Educational Oversight means that JARE ATP can offer Overseas students secure UKBA Six Month Student Visitor Visas so that they can complete their programmes at our Boeing B737 Trainer & Aviation Centre at Bournemouth International Airport in the UK.
The BAC Inspectors reported that at JARE ATP: 'The teaching programme is well managed and planned and the resources available for the programmes are very impressive'.
In October 2013 JARE ATP completed formal training to offer a range of HSE Approved First Aid programmes via First Aid Awards including Emergency First Aid at Work, First Aid at Work, CPR and AED training leading on successful completion to an internationally recognised award and certificate.
2014 saw LRQA extend our ISO 9001:2008 Quality Management System and successfully gain re-accreditation for a further 3 years.
2016-16 We also won a range of important contracts including one for the new City of Glasgow College via Sir Robert McAlpine to build and install their new full Mock-up Cabin.
2017 saw our move a few hundred metres to our own purpose built B737 Aviation & Training Centre at 307NE Commercial Road, Bournemouth Airport.
2018 – we opened our Aviation Workshop at Bournemouth Airport close to our current training centre
2018 – LRQA accredited JARE ATP to the newer ISO 9001:2015 standard with increased scope.
J.A.R.E. Airline Training Partnership Limited –
Registered in England: No. 5288385
VAT Reg.No: GB 817 4846 05
LRQA ISO 9001:2015 Certificate Identity Number: 10037147
Data Protection with ICO including Educational Purposes No: Z9289867
Skills Funding Agency – ACTOR Approved – now Register of Training Organisations for 2012-13
UK Register of Learning Providers UKPRN: 10018326
DUNS No: 719064565
Department for Works and Pensions LVP Certified Supplier
NCFE Approved Centre: 8462495
Accredited by the British Accreditation Council for Independent Further and Higher Education as a Short Course Provider JAR001
NUCO Approved Training Centre for a range of First Aid Awards