J.A.R.E. ATP provide new entrant Cabin Crew Training for Air Cabin Crew, Cabin Crew, and Airline Passenger Service Agents to help you get one of the many Cabin Crew & Passenger Service Agent positions out there. With our One, Two and Three Day and other options on successful completion!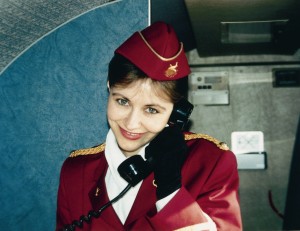 Let JARE

ATP train you to the 

AVIATION GOLD STANDARD

 airline and airport employers are looking for in their new recruits.
It's a common dream to be an air cabin crew member. To live the jetset lifestyle. We offer a variety of cabin crew training programmes, which will give you the qualifications you need to begin applying for air cabin crew jobs. Just ask us for our support and we can provide a range of practical activities at our Boeing B737 Aviation & Trainer Centre to cover all key learning outcomes for a range of awarding body programmes. Our range of impressive aviation facilities includes our Boeing B737 Trainer aircraft at Bournemouth International Airport, so our cabin crew training can replicate the real life context of cabin crew jobs.
Also please watch our Video/DVD by selecting the JARE ATP DVD button on our website browser to see our facilities in action.
Our other website pages will give you much more detailed information – specifically our "Direct Aviation Training" button and pages.
For Overseas students please see our relevant Overseas Programmes webpage for details of our exciting programmes for those students wishing to come to the UK from Overseas outside the EU to take part in our unique aviation training opportunities.
Individual Direct Students
In 2017-18 we are offering a range of One, Two & Three Day options as well as 3-4 month Air Cabin Crew training options which will utilise our B737 aircraft and Aviation Centre for a range of practical and theoretical studies for direct students looking for an entry into the world of air cabin crew jobs. Our air cabin crew training is focused on hands on activities, which will give learners the practical skills required in air cabin crew jobs.
Our "Direct Aviation Training" button and pages on this website will give more information regarding dates, programmes and costs to assist you further – you may also book programmes via our BUY NOW navigation button
Colleges and other Educational Institutions
For 2018-19 we also have a range of learning and tutor materials as a package for the NCFE (and other Awarding Bodies i.e. C&G) Airline Cabin Crew Level 2 qualification including an Observation and Assessment Day at our Boeing B737 Aviation Training Centre at Bournemouth Airport.