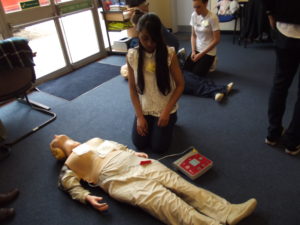 Exceptional Aviation Resources ~ Fantastic Practical Activities ~ Outstanding Value for Money
Let JARE ATP train you to the 

AVIATION GOLD PROFESSIONAL STANDARD

 airline and airport employers are looking for in their new recruits.
WE ARE NO LONGER OFFER THIS PROGRAMME FOR DIRECT AVIATION STUDENTS
This programme is contained in our Air Cabin Crew & Airport Diploma – it is an HSE Approved and First Aid Awards Limited Certificated Course – please view this link:-
From a recent course this is what some of our students thought:-
Renata Maia 23.6.2017. – "I just wanted to take some time to thank you both for being so welcoming and helping me reach many of my goals and helping me choose what I may want to do in the future. It was such an amazing experience being with you, if not the best experience I have ever had in my life as of yet. Thank you once again"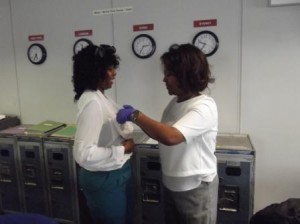 Hirut Daniel 26.9.2015 – "EXCELLENT!"
We are not currently offering any DIRECT student aviation programmes from 2023-24 onwards.
Here is what a previous student said about their JARE ATP programme:-
Nigat Mushtaq 2.5.2014: "I rate it as very informative and has increased my understanding of first aid in the Aviation environment".
JARE ATP are approved First Aid at Work and AED/CPR trainers for the First Aid Awards approved programmes which meet all the requirements of the new HSE Legislation and a recognised externally accredited First Aid Awards Limited certificate is awarded on successful complete of each programme which is internationally recognised.
This EFAW award is a Full Day at our Boeing B737 Trainer and Aviation Centre to learn the key First Aid procedures + Aviation context and a range of subjects are covered which include:
Responsibilities and reporting
What is Emergency First Aid?
Legislation
Action in an emergency
Primary survey
Secondary assessment
The respiratory system
Disorders of respiration
Adult basic life support
Foreign objects
Disorders of the circulation
Minor burns and scalds
Epilepsy
Wounds and bleeding
Resuscitation
Assessment of the situation
Choking
Dealing with an unresponsive casualty
Minor injuries

Seizures

Basic hygiene in First Aid

Bleeding control

Shock

Aviation Context of Emergency First Aid at Work
In an aviation context this is a UNIQUE option and a valuable addition to any C.V. and Resume for any candidate making an Application to an airline or airport for an Air Cabin Crew or Ground Crew position and will put candidates at a significant advantage over all others without this HSE recognised qualification, especially in its Aviation context (*for successful students there is a small £10.00* cost for external certification payable at the end of the programme).
Taught by HSE Approved JARE ATP Instructors students will learn some of the most important skills required by Aviation staff which are also invaluable in everyday life.
We are not currently offering any DIRECT student aviation programmes from 2023-24 onwards.
 BOOK NOW!
Please use the Contact Form below to find out more or e-mail: mail@jare-atp.co.uk
Please also check our page "Why choose JARE Airline Training Partnership?" to give you an objective guide as to why you should choose us to help your aviation career take off. REMEMBER that not even British Airways,  Virgin Atlantic or any other UK Airline have a full aircraft for students to work on, only mock-ups and sections!