Based at Bournemouth Airport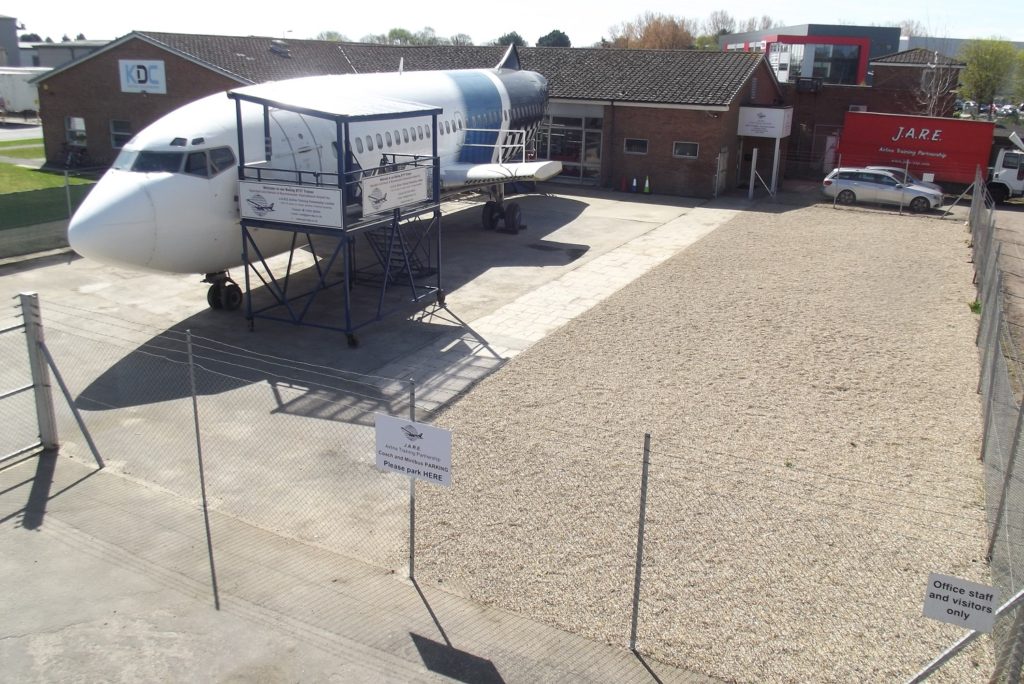 Exceptional Aviation Resources ~ Fantastic Practical Activities ~ Outstanding Value for Money
Let JARE ATP train your students to the 

AVIATION GOLD PROFESSIONAL STANDARD

 airline and airport employers are looking for in their new recruits.
An investment in one of our training days isn't expensive for you and your students – it's priceless!
Now you can utilise a complete aircraft with a range of interactive facilities instead of having to use an airline mock-up cabin or part of an aircraft in addition to your own resources for all your aviation programme requirements.
Also please watch our Video/DVD by selecting the JARE ATP DVD button on our website browser to see our facilities in action.
Apart from the Airline & Airport activities listed below we also offer a range of scenarios for Uniformed Public Service activities which can include:-
1. Classroom Preparation – team forming and duties preparation
2. Hi-Jack – a range of interactive roles to play out this scenario including Krav Maga Terrorism training
3. Crash Landing – a wide range of scenarios to role play with detailed options – handling a Major Incident
4. Systematic Security Search – a wide range of items to find on our aircraft requiring a thorough search of the cabin.
For the
2023-24
 Academic Year we continue to exclusively operate and own our modified B737 Trainer aircraft at Bournemouth Airport on the South Coast.
.
The B737 Trainer (apart from trimmed wings and tail) is complete and has room for 102 PAX places and full onboard facilities PLUS the extras that we have installed to make the aircraft as interactive as possible including realistic simulation and Sound Effects to replicate the aircraft in operation.
.
The B737 Trainer offers the following:-
.
Emergency Evacuation Slide
Overwing Exit – inc. door removal
Cabin Door training – inc. drills
Smoke-filled evacuation + "infant" to find
Pilot Incapacitation on our B737 Flight Deck inc. full drills and checklists
Galley Fire Trainer – inc. realistic simulation with practical drills
Toilet/Washroom Fire Trainer – inc. realistic simulation with practical drills
Rapid Decompression – with drills
Passenger Address & Safety DEMO in the cabin
Duty Free/Tax Paid/Discounted Goods Service
In-flight Service
Boarding Passengers
Security Search of Cabin
These are just a few examples – we can offer many more and bespoke them, as we currently offer, to a range of specific programmes, units and elements.
.
To get a range of price options and availability please contact Julie A.Rushton – Tel: 01202 582354 or e-mail: jar@jare-atp.co.uk – these will include:-
.
Aviation Experience – a range of up to 4 airline activities on the B737
Aviation B737 Experience for Uniformed Public Services – choose either Major Incident/Aircraft Crash + prep OR other activities included in our pricing below
Airline Practical Activity Days – a range of up to 7 airline activities on the B737 + IFS snack lunch service
Airport Practical Activity Days linked to both the B737 Trainer and our Check-in/Departure Lounge/Arrivals options
Costs start from only £37.00 per student and include not only all the activities chosen but our Completion Certificate and up to 150 Digital Images of students completing their practical activities onboard the B737 Trainer – even our unique Aviation Lapel Badge can be made available.
Airport Practical Activity Days
We also offer at Airport Practical Activity Days at our Boeing B737 Trainer & Aviation Centre at Bournemouth International Airport.
We can offer over 12 Airport Practical Activities including:-
Check-in Passengers – using check-in computer system to produce boarding passes, baggage receipts and Flight Manifest
Aviation Security – a complete a range of Passenger Security Checks – using HHMD, AMC
"X-Ray" Passenger Baggage – checking for prohibited items
Departure Lounge Duties inc: Passenger Address Announcements for a range of Passengers
Boarding Gate Duties – inc: checking boarding passes and helping a range of Passengers
Liaise with Cabin Crew and Flight Deck and help/escort a range of Special Needs Passengers
Arrivals Procedures – meeting aircraft, escorting passengers etc.
Passport Control – help passengers accordingly
Customs Channels and Control – help passenger accordingly
Deal with Passengers denied boarding and return to Landside
Help passengers regarding lost baggage and completion of forms
These are just a few examples – we can offer many more and bespoke them to specific programmes, units and elements.