If you are ready to fulfil your dream to become Air Cabin Crew or an Airline Customer Service Agent then we are ready to help you NOW!
Exceptional Aviation Resources ~ Fantastic Practical Activities ~ Outstanding Value for Money 
We are not currently offering any DIRECT student aviation programmes from 2023-24 onwards.
An investment in one of our training courses isn't expensive – it's priceless!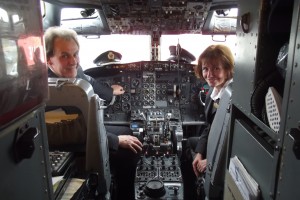 Let JARE ATP train you to the AVIATION GOLD PROFESSIONAL STANDARD airline and airport employers are looking for in their new recruits. We also offer within all our programmes unlimited help to all our students when applying to airlines & airports and maintain a comprehensive list of aviation vacancies.
Also please remember ALL our programmes are covered by our unique  LRQA ISO 9001:2015 Quality Management Systems.
Our Boeing B737 Trainer Aircraft and Aviation Centre based at Bournemouth International Airport is less than 2 hours from London on the South Coast of England so is conveniently situated for easy travel as well.
Unlike any other aviation provider we offer a free and without obligation visit to our centre BEFORE you book anything by appointment so you can see for yourself what we have to offer.
Click onto this link to view the programme details:
We are not currently offering any courses in 2023-24
For our DIRECT STUDENTS, following the continuing success of our Airline & Airport programmes we offer our current programme as a combined Airline & Airport Diploma in a Three Day programme only – it includes our UNIQUE Emergency First Aid at Work externally certificated in an aviation context.
We only run our programmes every year – so book NOW for our next programme.
From previous courses this is what some of our students thought:
Erika Carbrera 12.10.18. – "I would like to take this opportunity to thank you for the informative Two Day programme with you. I really learned a lot and gained a superb experience as a first aider and customer service agent. I will bring this knowledge as I take the new chapter of my life. Thank you for all the modules, exercises, guide books, and application forms you've given us. It is very much appreciated"
Zahara Walji 7.10.18. -"I really enjoyed the 2 day CSA course and first aid day – both days I learnt so much and this has stuck in my mind which has been really good.
Renata Maia 23.6.2017. – "I just wanted to take some time to thank you both for being so welcoming and helping me reach many of my goals and helping me choose what I may want to do in the future. It was such an amazing experience being with you, if not the best experience I have ever had in my life as of yet. Thank you once again"
Sneha Patel 11.9.2016 – "The programme was excellent and I got a lot out of this programme including CSA, Cabin Crew and First Aid skills – I'd rate it 10 out of 10"
Krishna Jadeja 26.9.2015 – "Excellent, 100% helpful and knowledge acquired – second to none!"
Rudo Chimonyo 26.9.2015 – "Coming in with no knowledge of aviation I now feel very confident in making the first steps for job hunting both as an Airline Customer Service Agent OR as Air Cabin Crew."
Please also check our page "Why choose JARE Airline Training Partnership?" to give you an objective guide as to why you should choose us to help your aviation career take off.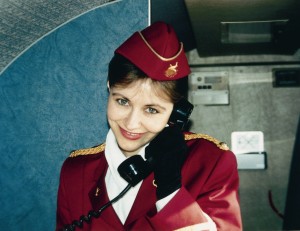 Welcome to the JARE Airline Training Partnership, the home of independent aviation training in the UK since 1990. It's a common dream for many people today to want to become an Air Cabin Crew member. To live the jetset lifestyle, visit new places and meet a range of fascinating people. Our Aviation training includes Air Cabin Crew training as well as Airline/Airport Customer/Passenger Service Agent and Emergency First Aid at Work in an Aviation context, this training will give you the qualifications you need to begin applying for air cabin crew and airport jobs. Our programmes include a range of practical activities at our Boeing B737 Trainer and Aviation Centre at Bournemouth International Airport to cover all key learning outcomes required for the UK/EU Aviation Occupational Standards. ALL our programmes are conducted at our Boeing B737 Trainer and Aviation Centre at Bournemouth International Airport, so our cabin crew and airport training can replicate the real life context of cabin crew and airport jobs on our Aviation Campus Site.
REMEMBER that not even British Airways or Virgin Atlantic have a full aircraft for students to work on only mock-ups and sections!
Also please watch our Video/DVD by clicking here the JARE ATP DVD on our website browser to see our facilities in action.
Here is what some previous students have said about their JARE ATP programme:-
Jessica Sparkes 2.5.2016: "Excellent – invaluable – will recommend the course".
Mohammed Rashid 2.5.2015: "Brilliant – will recommend to others, thanks for everything".
POPULAR OPTION – following the outstanding success of our recent courses we now offer our Air Cabin Crew and Airline Customer Service Agent programmes + HSE Emergency First Aid at Work as a THREE DAY Airline & Airport Diploma – please see our separate pages for this exciting option at our Special price of only £225.00* per student. 
REMEMBER – our HSE Approved 'Emergency First Aid at Work' qualification also has its own internationally recognised certification; it's so essential for all aviation roles and candidates who have this qualification will be looked on much more favourably by airline and airport employers than those without this training and the First Aid Award Limited qualification we offer there is a small certification fee of £10.00* for this certification which is payable on the day you successfully complete your programme.
Current dates for all our programmes in 2020:-
Airline & Airport Three Day Course:-
No courses are planned in 2023-24
At the end of each programme we help all our students towards relevant aviation employment and support during the application, interview and recruitment process for those eligible to work and live in the UK/EU.
Unlike any other independent specialist aviation providers we have now been approved onto the Skills Funding Agency's (SFA) Register of Training Organisations following our previous approval onto the SFA Accredited Colleges and Training Organisations Register.
JARE ATP is also accredited by the British Accreditation Council (BAC) and is therefore authorised to issue Offer Letters to students to allow them to obtain a Short-term Study Visato gain Entry to the UK to take part in their programme via the UKBA's secure Six Month SShort-term Study Visa Scheme.
The BAC Inspectors reported that at JARE ATP: 'The teaching programme is well managed and planned and the resources available for the programmes are very impressive'.
Here is what some previous students have said about their JARE ATP programme:-
Kashif Bhatti 8.1.2016: "A wonderful, charming, unforgettable day in my life. Waooo, what fantastic and experienced staff, beautiful classroom and outdoor environment. I don't hesitate to sat that JARE cabin crew training is the best gift of 2013 for me".
Prentice Garces 11.9.2015: "I would like to take the opportunity to say it is all really worth it. The training was very effective and Monarch Airlines has accepted me and I am very happy – JARE was very helpful and as you rightly said, the airlines came flying in looking for me".
Ana Edjibia 7.8.14: "I would like to thank you for all the knowledge and help which you gave me during the course time."
Alastair Price 28.6.13: "I just wanted to extend my thanks again to yourself and Andrew for what was a thoroughly enjoyable and very helpful course in Airline Customer Service Agent Training."
We now offer the option to book an Air Cabin Crew and Airline Customer Service Agent programme with JARE Airline Training Partnership by using the Buy Now navigation button for the following programmes:-
As well as our unique Three Day Airline & Airport Diploma – current price £225.00 per student place – this programme includes:-
Our popular Air Cabin Crew introduction and interview preparation training
Our popular Airline Customer Service Agent introduction and interview preparation training
The externally accredited First Aid Awards Emergency First Aid at Work HSE certification Level 2 including aviation contextualisation

For Overseas students please see our separate webpage for further details.
All these options for direct students are offered in our own Boeing B737 Trainer and Aviation Centre at Bournemouth International Airport to help new entrants to get ahead of other applicants at Airline & Airport interviews by introducing them to the roles of either Air Cabin Crew and/or Airline Customer Service Agents by way of hands-on practical experience as well as help with written applications, tests and what to expect at Airline & Airport Interviews based on our 27 years experience.
All our programmes are mapped to the UK Occupational Standards for Aviation and as such are all to UK/EU Worldwide aviation industry approved standards.
If, as a student, you enjoy learning in a warm, friendly and supportive atmosphere taught by long-standing professional Tutors in an Aviation Centre, then we are the right Aviation Specialist for your training needs.
To check our Codes of Practice please click on the button above to see our range of accreditations, registrations and codes of practice, you will not find another specialist aviation provider with this level of externally approved professionalism in the UK.
Please note that all our programme bookings are made subject to our Standard Terms and Conditions – please see the relevant page in this section.
Please click on the buttons above to check out our Air Cabin Crew Airport Diploma programme – to book a course please click on the BUY NOW button above which will lead you to the dates available and costs etc., where you can pay by credit/debit card with confidence.