Exceptional Aviation Resources ~ Fantastic Practical Activities ~ Outstanding Value for Money
Let JARE ATP train your students to the 

AVIATION GOLD PROFESSIONAL STANDARD

 airline and airport employers are looking for in their new recruits.
An investment in one of our training days isn't expensive for you and your students – it's priceless!
This experience is designed for colleges, schools and other providers who wish to offer their learners a shorter aviation experience for a few hours in half a day. Most of these options are based on matching the specific syllabus from a range of awarding bodies via our specially written support materials to then progress to a practical assessment. For individual students these activities can also be accessed via our Direct programmes – please see Aviation Training for more details.
Also please watch our Video/DVD by selecting the JARE ATP DVD button on our website browser to see our facilities in action.
Typically our Aviation Experience offers the number of practical activities that you would expect to undertake at an Airline's own training Centre BUT at a much reduced cost! REMEMBER that not even British Airways or Virgin Atlantic have a full aircraft for students to work on only mock-ups and sections!
ALL programmes are run at our Boeing B737 Aviation & Training Centre at Bournemouth for BOTH Aviation and Uniformed Public Services options – UPS options can include:-
Handling  a Major Incident – Aircraft Crash and aftermath – with very interactive hands-on options
Systematic Security Search
Hi-Jacking – with interactive options and Krav Maga Terrorism training
Classroom preparation
Over 40 different Airline & Airport activities are available to choose from to form a THREE Airline or Airport Activity AM or PM session – prices for 2023-24 start from only £37.00 per learner for a THREE activity session.
We can also offer FOUR and FIVE activity sessions on a shorter day basis – allow approx. ONE HOUR per activity.
You can choose Airline Practical Activities including the following:-
B737 Emergency Evacuation Slide – from 9′ evacuation height

B737 Overwing Exit – inc. door removal

B737 Cabin Door training – inc. drills

Smoke-filled evacuation using our B737 + "infant" to find

Pilot Incapacitation on our B737 Flight Deck inc. full drills and checklists

B737 Galley Fire Trainer – inc. realistic simulation with practical drills

B737 Toilet/Washroom Fire Trainer – inc. realistic simulation with practical drills

Rapid Decompression on our B737 aircraft – with drills
OR
You can choose Airport Practical Activities including the following:-
Check-in – using our unique computer based system

HHMD and AMD Security Screening of passengers

"X-ray" simulation and stop and search of passenger lugagge

Denied boarding of passengers and return to landside

Departure Lounge PA's

Boarding passengers inc: boarding at remote stand

Special Needs passenger boarding

Checking Flight Manifest and passengers

Disembarking and escort arrival flights

HMBA Passport Control – checking arrival flights

HMRC Customs Control – checking passengers through 3 UK customs channels
PLUS a whole host of other activities including those bespoke to individual cohort needs; just ask for your requirements.
ALL our facilities use genuine aircraft, aircraft sections and aircraft parts + Airport Terminal facilities and include special Sound, Lighting and Special Effects to enhance the realism of each Activity; all our activities also have comprehensive external Risk Assessments completed on them as well as generic risk assessments, floor plans and dedicated fire escape routes for total safety.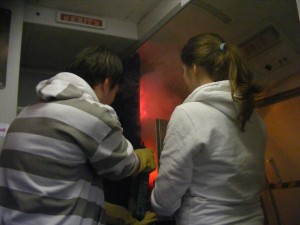 For more information contact Julie A.Rushton – 01202 582354 or jar@jare-atp.co.uk.